They will help you improve your writing process.
When I started writing online, I thought you need the best equipment and tools to become a professional writer.
I got distracted by all the options for upgrading my work setup. I believed you would need to invest plenty of money to write great articles.
In the past two years, I experimented with all the popular options out there and settled for these ten. Most of them are free, and they help me craft an article in less than three hours. They can do the same for you.
---
1) This browser extension helps you not get distracted
Writing with full focus is a superpower many people lack. With distractions one browser window away, thinking and writing become a struggle.
In the beginning, whenever I didn't know how to continue a story, I'd impulsively open a new tab with LinkedIn to distract myself. This wasn't a conscious choice. Distraction just seemed to happen to me.
The following tool has been very helpful in overcoming the distraction habit. I searched for it after reading Cal Newport's 'Deep Work,' and I continue to use it every day.
BlockSite Extension disables websites at the time you want. There must be many similar alternatives, but I use the free version and I love it.
How this tool helps you write great articles fast:
What are the websites or apps that distract you from writing? Add all sites that prevent you from doing the work.
I block the below sites 07:00 am — 10:30 am every day so I can focus on undistracted creation time.
Depending on your schedule and work, the sites and timing will look different for you. Once you've found the right settings for you, you don't have to look at it again.
---
2) An easy way to retain focus and motivation
Do you know that satisfying feeling of completing a task in the allocated time?
With writing, this is tricky. Because unless you define what "completion" means, writing has no end. Similar to an artist painting a picture, you can always improve.
You often can't anticipate how long it will take you to write an article. Some are more research and thought-heavy and require more time; some (like this one) are easy to write because you already know what you want to say.
A cornerstone habit in my writing process is defining "done" and sticking to it. If you always finish your writing time with the feeling of "I should write more," it's tough to keep coming back to it and stay consistent.
If you write too much, it can ruin your motivation. I finish writing before I'm exhausted. That way I'm quitting at a point of deep satisfaction (by flow state and deep work) and I'm excited to get back to my desk and write the next morning.
In my writing world, "done" is determined by undistracted writing time. While I can't fully influence how many words I type in a given time, I can determine how much time I want to spend writing.
BeFocused is the tool that helps me keep track of it. In essence, it's a free productivity timer. You have quick and easy access in the toolbar, can track how many sessions you completed, and time your pauses.
How this tool helps you write great articles fast:
How do you know you've achieved your writing goals for the day? Set a realistic writing time goal. Then, stick to it.
I write three times for fifty minutes. When I sit at my desk (mostly at 7 am) I open my Spotify writing playlist (more on that later) and click on "start" in BeFocused. This combination signals to my brain it's time to get into writing mode.
After each 50-minute interval, I take a five-minute break. I make myself a tea or coffee, walk around in my apartment, do some stretches, look outside the window, or clean some stuff.
If you can, don't check your phone during breaks, but put it into flight mode in a different room.
---
3) What I do to get into a writing flow
Flow states are your sweet spot of peak performance. It's where your writing magic happens.
And yet, I used to find it difficult to get into "the zone." And once I was in there, it was a fragile state. I was annoyed by every distraction. I snapped at my partner when he asked me a question, I was angry at the postman when the doorbell rang so he delivered a parcel, I was even annoyed by birds.
It wasn't until I bought noise-canceling headphones that my flow states became the new normal.
I got these ones from Bose. I know how privileged I am to be able to spend money on optimizing noise. Likely there are cheaper noise-canceling alternatives that do the same.
How this tool helps you write great articles fast:
A steady noise input can help you ease into a flow state. I put them on whenever I start to write. I then choose one song from my Spotify writing playlist and put it on repeat.
Since I use these headphones I get into flow states wherever I am, even in the backseat of a car during a 3-hour drive or in a public park. They help me be in fully focused writing mode whenever I want to.
---
4) Collect and manage ideas with xTiles
When I started writing, I felt I had nothing worthy to say. I thought I'd soon run out of article ideas. Two years and 300 articles later, I know I was wrong about both.
If you don't kill your baby ideas but capture them, you never run out of writing ideas. To capture and manage my ideas I use xTiles. It's a merge of Notion and Miro that helps you keep a visual overview.
How this tool helps you write great articles fast:
Collect every idea you have. This will help you save time in your writing process. You don't start with a blank page but can choose out of an abundance of ideas.
I have a bookmark in my browser reading bar. Whenever an idea crosses my mind while writing, I type it down and add context or links. If I'm on the go, I do the same from my phone.
Your best ideas arise when you don't expect them. The most important part is to have a capturing tool. With the right system, you'll always have enough ideas.
---
5) The lifesaver for non-native English speakers to publish with confidence
"But what if my English isn't good enough?" is something I often hear from students in my writing course.
I shared the fear. Growing up in rural Germany I never felt comfortable talking in English. But the thing is: many of your readers aren't English natives as well. For them, it will be easier to understand your articles.
But if you're still feeling insecure (which I definitely did), the following tool can have your back.
Grammarly suggests corrections for your grammar and word mistakes, helping you communicate effectively and as you intend.
How this tool helps you write great articles fast:
Use Grammarly once your article is ready to be edited. It will improve your articles and ease you from language worries.
I write my articles in Roam and paste them into a language formatting tool and into Medium drafts. I format my article in Medium (headline, subheadline, section headings, correct image attribution, spacing, and a call to action at the end) and then run a Grammarly check. I include all "correctness" suggestions and see whether there are useful hints for clarity, delivery, and engagement.
---
6) The power engine behind my idea-to-paper process
There are five steps to my creative workflow: seek, consume, capture, connect, and write. Readwise and Roam help me optimize the capturing and connecting process.
Readwise is an online service that imports all your article and book highlights into other software. You can do a ton of things with Readwise, but I mainly use it for importing my kindle highlights into my Roam database. Roam is an online workspace for organizing and evaluating your knowledge.
I used to have an entire workflow around Zettelkasten and Roam system and I still do.
How these tools help you write great articles fast:
I see the Readwise and Roam combination as my curated google. When I write an article about creativity I type # howtobecreative or # creativity I find any related book highlight, article, or personal thought. I tried Obsidian for a couple of weeks but switched back to Roam.
Once you have a clear idea-to-paper process you can write and create faster. You no longer waste time searching for sources. Instead of using my brain to browse through books and digital bookmark notes, you have everything in one place.
---
7) Increasing word variety with this free extension
Ever found yourself repeating the same word thrice? Especially as a non-native speaker it can be tough to come up with synonyms.
Power Thesaurus helps you expand your vocabulary and increase your word choice. It's a fast, convenient and free online word bank.
Power Thesaurus helps you find synonyms (Credit: Screenshot by Eva Keiffenheim of Power Thesaurus)
How this tool helps you write great articles fast:
Whenever I'm editing an article and feel as if I've repeated the same word too often, I highlight the word, click on the powerthesaurus icon and check for synonyms. If there's a word I like, I use it.
---
8) Write powerful headlines with the free headline analyzer
Composing great headlines is the most underrated writing skill. You can have the most amazing story. But if your headline sucks, nobody will read your work.
The following tool won't magically make your headlines click-worthy. And yet, CoSchedule can turn good headlines into great ones. The tool checks your word balance, clarity, reading grade level, and many other factors to calculate a headline score.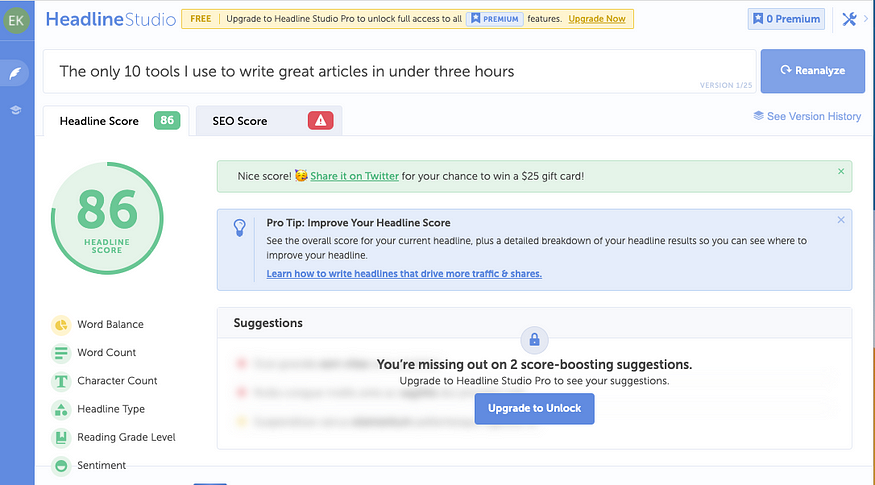 How this tool helps you write great articles fast:
After you've written a couple of headline variations, paste your favourite one inside the tool and start to experiment. You can use powerthesaurus (the tool from above) to come up with better words.
Once I have a +70 score and feel confident, I paste the headline into my Roam and start writing. I do this before I write an article as the headline will determine the structure.
---
9) Format your titles in the right way
Title case is the correct style for article headlines. You capitalize every word except articles (a, an, the), prepositions (in, on, for, up, …), and coordinating conjunctions (and, or, but, …).
There are some rule exceptions and luckily, you don't need to memorize them.
For correct title case creation, I rely on the free Title Case Converter.
How this tool helps you write great articles fast:
Editing can become a never-ending process. This tool is one step inside my efficient five-step editing process. All you need to do is copy and paste the title to get the correct spelling.
---
In Summary
While these tools won't turn you into a professional writer overnight, they will help you write better articles in a shorter time.
BlockSite, BeFocused, and noise-cancelling headphones help you stay productive and ease into flow. Software such as xTiles, Readwise, and Roam, optimize your idea-to-paper process. And lastly, Grammarly, CoSchedule, Title Case Converter, and Power Thesaurus improve your editing process.
But most importantly, use this article as inspiration, not as a blueprint. Pick the tools that seem helpful and ignore the rest. The quintessence to becoming a better writer is to write.
---
Subscribe for a free 5-day course on how you can set up the single most important thing writers usually forget to attract a large audience online. With a total time investment of only 20 minutes.